To cancel your domain registration, simply disable auto-renewal. Here's how:
1. Log into your Client Area
Misplaced your password? No problem. Go here to reset it:
2. Click 'Domains' on the menu bar and then click on 'My domains'.





3. Click on 'Active' for the domain registration you are wanting to cancel.





4. Click on 'Auto Renew' under 'Overview' to the left.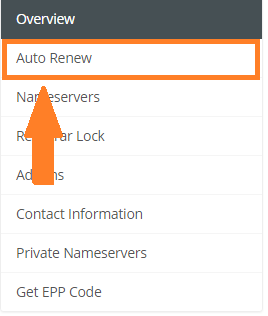 5. Click on the red 'Disable Auto Renew' button.





Please note, the domain will remain registered until the next due date but will not auto renew.
If you're wanting to cancel multiple domain registrations, you will need to cancel each domain registration individually. Also, this will not cancel any hosting account/server you may be hosting the domain registration(s) on. You need to cancel hosting accounts/servers individually as well. You can view our article on
How to cancel your hosting service
.
IMPORTANT: If you have a PayPal Payment Subscription setup for this service, you will want to cancel your subscription through PayPal Account. Here is PayPal's Help Center Article on Canceling Payment Subscription.