Below are instructions on how you can change your cPanel password though your Client Area.
[1] Log into your Client Area. If you do not have access to your Client Area with us, you can request a password reset here:
[2] Under Services, click on My Services: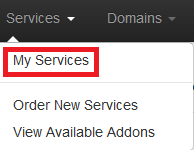 [3] Next to the service that you want to change the cPanel password for, click on

.
[4] Click on the Change Password tab:

[5] This will show your cPanel username and current password. To change the password, input the new password in the New Password field and the Confirm New Password field. Then click Save Changes. Your cPanel password has been changed.